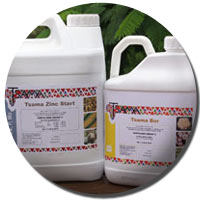 ABOUT TSAMA AGRICULTURAL AGENCIES
Tsama Agricultural Agencies CC has been registered in South Africa since 1996 as a specialist crop nutrition company.
Tsama soon established a reputation as a leader in foliar nutrition, with special emphasis on the micronutrients, delivering good, sound, strong technical advice, support and backup to our agents and end users. We continue to do so today. Our products are now predominantly locally manufactured under stringent standards equal to those exercised on the imported products, allowing us to be competitive whilst still offering the same high service standards and product quality.
Tsama offers a complete range of micronutrient products and several macro nutrient formulations with the emphasis on foliar feeds and seed treatments. Several of the products are now locally manufactured by a specially chosen, reputable company currently achieving ISO 9001 , 1401 and 1801 accreditation and certification and which has long term experience in both agrochemical and plant nutrition product formulation
and manufacture.
All products are registered under Act 36/1947.